Antarctica is the most remote continent. Our goal is to show "the Antarctica" that we have experienced for many summers, to talk about our feelings and passion towards the White Continent, explain the general aspects of a trip, what you might see and enjoy and get to share some memorable moments that we keep in our hearts. Please, connect and join us on this virtual adventure!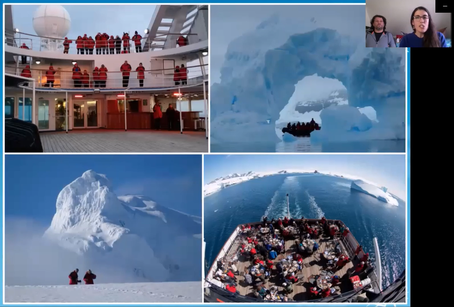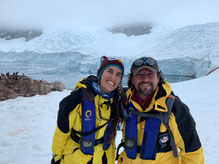 MEET YOUR GUIDE
My name is Laura Gallardo and I was born in Buenos Aires, Argentina. When I was a little girl, I wanted to become a tour guide to share the beauties of my country with other people and to practice English.
I got a degree in Tourism in Buenos Aires, but my dream since I was a teenager, was to live in the beautiful Patagonia. I decided to make my dream come true in 2004 and lived for a while in Northern Patagonia and soon after, I went to the end of the world! I lived for 15 years in Ushuaia, Tierra del Fuego. That's the place where I became an experienced guide and later, a trip leader. This other part of my career took me to places that I love, like Perito Moreno Glacier, Torres del Paine National Park, Cape Horn, Antarctica, Iguazú Falls, Easter Island and many more! I am currently living in Santiago de Chile, but my heart will always be in Patagonia. Now that our world changed completely and especially my job, I decided to offer "virtual tours" to share what I love doing with you.
My name is Carlos Segura and I am from Santiago de Chile. I became a Spanish-English interpreter after high school and worked for a while in that field. But it wasn't until I got a job in a travel company as a local guide, when I realized that Tourism was what I wanted to do. I have been working as a trip leader for 20 years now, visiting places like Patagonia, Antarctica and Easter Island. I believe guiding is about inspiring others to follow your steps into a great world of travel and passion, so I coached new guides in different parts of the world. This time I would like to share with you what I consider to be the best place on earth: Antarctica!
 *****************************
AVAILABILITY ( Shared tour ): 
-March 22nd:   8 pm (Argentina)
               3 pm (West Coast) / 6 pm (East Coast)
DURATION: 
1 hour plus 30 minutes for your questions

Conference App: ZOOM 
You will get the link to access the virtual room via email before the tour.
(We suggest to download ZOOM Free App. in advance)
  Check for availability on PRIVATE TOUR
 *****************************
CHECK THE TIME DIFFERENCE WITH OUR REGION
*********************************** 
GET YOUR LINK TO ACCESS AFTER BOOKING
CLICK THE REGITER BUTTON DOWN BELOW AND FILL OUT THE FORM.
YOU WILL GET THE LINK TO ACCESS THE VIRTUAL TOUR BY EMAIL